Baleares y Canarias, sufren el mayor incremento de desigualdad salarial y pobreza. La menos afectada, Navarra.
La cohesión territorial empeora, pero menos de lo esperado.
Las medidas de distanciamiento social y confinamiento diseñadas para combatir la propagación de la COVID-19 están creando un incremento general de la pobreza y la desigualdad en España, pero con impactos diferenciados por comunidades autónomas, según una investigación de la Universidad Complutense de Madrid (Juan Gabriel Rodríguez y Raquel Sebastián) y de la Universidad de Oxford (Juan César Palomino).
El porcentaje de pobres (figura 1a) aumenta en todas las comunidades autónomas, oscilando entre el cambio mínimo de Navarra (8,2 p.p.) y Extremadura (8,3 p.p.), y los valores máximos de Baleares (19,2 p.p.) y Canarias (14,6 p.p.).
Las diferencias provienen, fundamentalmente, de la distinta estructura ocupacional de las Comunidades Autónomas, sobretodo de la esencialidad y cierre de las actividades económicas que en ellas se desarrollan y no tanto al nivel de teletrabajo existente. Las muy afectadas Islas Baleares y Canarias presentan una esencialidad media-baja y el mayor nivel de cierre (por su alta especialización en el sector turístico). En el otro extremo, Extremadura y, sobre todo, Navarra, tienen un nivel muy bajo de actividades cerradas. Extremadura, a pesar de tener el nivel más bajo de teletrabajo, tiene el nivel más alto de esencialidad.
En cuanto al incremento de la desigualdad salarial (figura 1c), las islas son también las regiones más afectadas, con un aumento estimado de la desigualdad igual a 5,3 (Baleares) y 4,6 (Canarias) puntos de Gini (escala x100). En el otro extremo encontramos a Navarra (2,3), Asturias (2,7) y La Rioja (3,0).
La pérdida salarial sufrida por los trabajadores que ya se encontraban por debajo de la línea de pobreza también muestra diferencias significativas entre las regiones (figura 1b). Las Islas Baleares (24,8%) son las que más sufren. Asimismo, Cantabria (23,5%), Madrid (23,4%), Valencia (23,2%), Galicia (22,0%), País Vasco (21,8%), Asturias (21,7%) y Castilla-La Mancha (21,1%) presentan pérdidas para sus trabajadores más pobres por encima del promedio nacional (20,8%). En el extremo opuesto se encuentran las regiones con una puntuación media de esencialidad más alta: Extremadura, Andalucía y Castilla y León. Su pérdida salarial promedio es ligeramente menor, 17,5%, 17,5% y 18,3%, respectivamente.
Pese a estos datos los investigadores concluyen que, si bien la cohesión en España se ve perjudicada con un incremento en la desigualdad interterritorial del 5,6%, los mayores aumentos en desigualdad tienen lugar dentro de las propias comunidades autónomas (17,1%) (Tabla 1). Al ser las regiones más afectadas (Baleares, Valencia) relativamente ricas y las menos afectadas (Extremadura, Andalucía) más pobres, "se evita que la erosión de la cohesión territorial sea aún mayor".
Figure 1. Poverty and inequality changes in Spanish regions
Headcount poverty index change.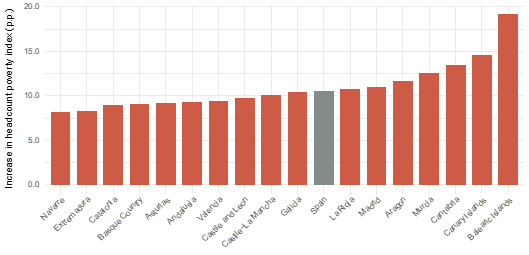 Wage loss of poor workers.
Inequality change.
Table 1. Interregional and intraregional inequality changes in Spain (MLD Index).
Inequality Pre-pandemic

Inequality Post-Pandemic

Variation

Variation (%)

Total

0.3653

0.4265

0.0612

16.8%

SE

0.0085

0.0096

0.0022

0.573

Between regions

0.0116

0.0123

0.0007

5.6%

SE

0.0017

0.0020

0.0005

3.729

Within regions

0.3537

0.4143

0.0606

17.1%

SE

0.0080

0.0088

0.0020

0.570
Note: S.E. represents bootstrapped standard error.
Autores:
Juan Gabriel Rodríguez: juangabr@ucm.es
Raquel Sebastián: raquel.sebastian@ucm.es
Juan César Palomino: juan.palomino@spi.ox.ac.uk